atvise pure web SCADA, HMI and IoT platform
Information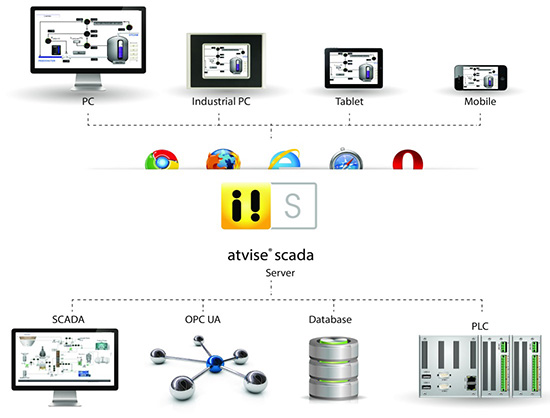 Real-time management visibility of production facilities starts by adopting modern pure web, connected technology, and moving away from solutions that are locked into control rooms with limited access. Today management require greater visibility of past and current performance and efficiency to adjust the business plan in real-time. Using Atvise users with the right security and any device with a modern web browser can access production, stock and asset status information without the need to install and maintain software. Secure remote access to information is possible unhinging management from the production facility and still providing the information required.

Atvise can be added to existing automation solutions or used to replace and enhance older legacy SCADA or custom-built monitoring solutions. Developed by Bachmann Visutec GmbH in Austria, atvise® is Industry 4.0 ready platform built on OPC UA for pure web, graphical real-time applications.

With support for MQTT client and MQTT broker, the option to dynamically create structured objects (without restart or compile) and process late data from various sources, atvise provides a flexible platform for IoT applications. 

Atvise allows information to be accessed using HTML5 web browsers on PC, Mac, Mobile, or Smartphone devices and without any additional plugins and at a competitive price. Atvise's support of OPC UA (Universal Architecture) includes client and server functionality for OPC HA (History and Acquisition), OPC A&C (Alarms and Conditions), OPC Methods (distributed programming).
The atvise server can be run on your local machine, a local server or in the cloud on either a Microsoft Windows or Ubuntu Linux operating system. Clients only require a HMTL5 browser, making the solution truly thin, and works well with the Microsoft Edge browser running in Kiosk mode on a Windows 10 platform or simply using a Android screen device.
The atvise® license model allows concurrent web users to access real-time control and information without the need to license every individual user or computer.
Features:

Pure Web (SVG, HTML5) - all you will ever need to access atvise is a HTML5 web browser.
Absolutely no plug-ins required - never have to download ActiveX, JAVA, Silverlight, or any other additional programs.
Built on the OPC-UA model - easy data, historical and alarm connectivity, and Industry 4.0 ready.
SVG vector graphics - ensure high quality of display across all devices (4K & 8K screens).
Object Orientated Environment – mirror objects with your PLC, enables rapid development.
Scalable - 50 to Millions of Concurrent Data Points (CCD) on a single server.
Unlimited Tags - unlimited historical logging, alarming and aggregation from the smallest package.
Quick Dynamics, Simple Dynamics - powerful pre-configured dynamic graphics.
Multiuser Engineering - allows local or remote connection via OPC UA Methods for engineering,
no development user license, changes are made online with NO need for compiling, deploying or rebooting (experience truly rapid development).

Benefits:

Cross-platform - can be run across any device regardless of operating system. No JAVA required.
Available in seconds - to any device equipped with a HTML5 web browser.
Access information - at any time, at any place, and anywhere.
Easy connectivity using OPC-UA - less engineering time, fewer mistakes, while in development & integration.
Scalability – only pay for the maximum tags to be viewed at any point in time.
High-Quality Graphics loss-fee scaling for all display devices, display 4K, 8K, and higher resolutions (future proof).
OPC UA provides "store and forward" of historical data and synchronisation of alarms across multiple installations.
Easy Integration to Services Messaging via WhatsApp or Telegram, SMS through low-cost online providers.
Scalable and Flexible
atvise® SCADA is based on contemporary technologies and standards: The visualisation in pure web technology, as well as a consistent vertical object orientation based on OPC UA, changes the world of process management systems.
Visit the avtise website for more detail.