Kepware KEPServerEX OPC Communications Drivers
Kepware is the world leader in communication software for automation and offers a unique experience in both, OPC and embedded device communications. Kepware focuses on the development of communication drivers to automation controllers, I/O and field devices. Operating system support includes; Microsoft Windows Desktop, Server and Embedded (Windows CE and Windows NT/XP Embedded). Kepware delivers its products to End Users and is widely distributed through relationships with Software and Hardware Automation Vendors.
Download a fully functional, demo version.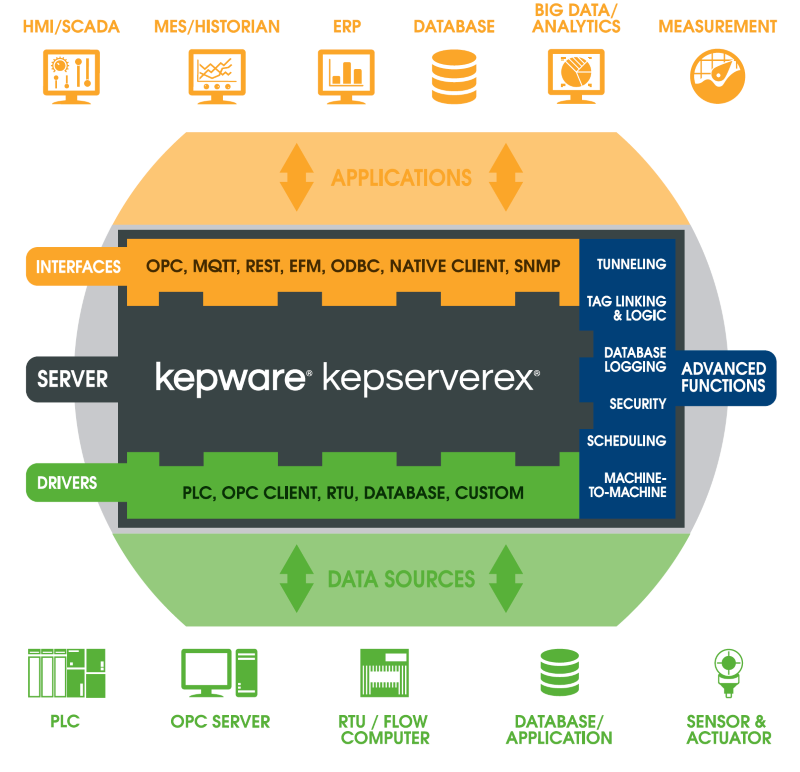 Connectivity
KEPServerEX offers the broadest range of drivers available, supporting current and legacy devices across various verticals within the Industrial Automation Industry. Drivers support a variety of wired and wireless networks including Ethernet, serial, and proprietary networks and various telemetry mediums. KEPServerEX provides connectivity to databases, custom software applications and other OPC servers, and supports simulation for implementation and testing prior to deployment.


Optimization
Through data conditioning and reduction, customized load balancing, and protocol-specific communications optimization, KEPServerEX improves communications and reduces network and device load. It also features Machine-to-Machine linking and redundancy.


Aggregation
KEPServerEX maximizes data applications by supporting connections to thousands of data sources and providing information to hundreds of applications through a single architecture. This eliminates the need to purchase, operate, and maintain disparate applications for discrete connectivity.


Accessibility
KEPServerEX provides accessibility to leading automation, Big Data, and analytics software via OPC, proprietary protocols, and IT protocols (including MQTT, REST, ODBC, and SNMP). Historical data is accessed through OPC standards, trend logs, and Electronic Flow Measurement (EFM) for hydrocarbons.


Security
Tools within KEPServerEX expand administrators' abilities to control user access and regulate browse/read/write privileges for secure data communications. KEPServerEX supports a number of secure client standards including SNMP, OPC, and HTTPS to further restrict access to the server, as well as a number of secure device protocols to meet the requirements of DNP3, SNMP, and OPC UA data sources.


Diagnostics
KEPServerEX provides robust communications diagnostics to easily isolate and troubleshoot device and application communications.