Manufacturing Operations and Performance Management Software
TrakSYS™ is a flexible and scalable software application that is specifically designed to improve managing and executing manufacturing operations. TrakSYS makes it possible to reduce the lead time throughout the value stream. This is an enormously effective strategy to:
Improve operations, regulatory compliance, asset and resource performance, and quality.
Reduce labor, material usage and waste, and energy consumption.
Deliver healthy bottom-line results.
TrakSYS is deployed quickly with immediate positive impact on operations. TrakSYS does this without disrupting ongoing production, requiring changes to existing infrastructure, or needing heavy investment of resources and capital. To make the value proposition even more attractive – because of its versatile technology and small footprint – the cost of ownership is incredibly low.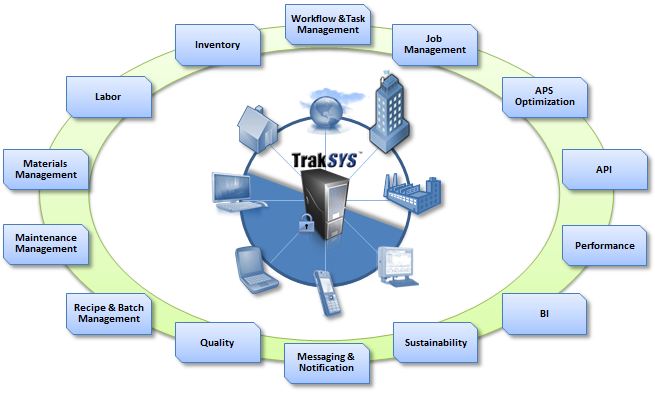 With TrakSYS you get:
Production Planning & Scheduling
Job & WIP Management
Workflow & Task Management
Inventory Management
Labor Management
Maintenance Management
Material Management
Recipe & Batch Management
Quality Management
Dynamic Messaging & Notification
Sustainability & Energy Management
Business Intelligence
Performance Management
Application Programming Interface (API)