Gain insight for better decision making
In a world obsessed with performance, manufacturing companies must develop a solid productivity culture and strategy in order to successfully negotiate the serious challenges involved in achieving continuous improvement. In order to overcome this serious challenge, one of the key first steps is to understand the roots of poor performance. Causes of poor performance can include lack of solid strategy, unattainable expectations, bad assumptions, lack of effective training and tools, and poor information leading to bad decision making.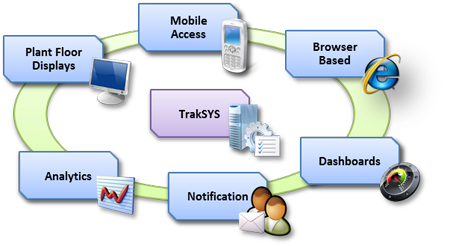 TrakSYS Value in Manufacturing Intelligence
Business and process improvement through real-time production dashboards
Improved employee productivity
Lowered demand on IT staff to create and deliver custom reports
Standard and user-defined KPIs (OEE, TEEP, CPQ, MTBF, MTTR, etc.)
Improved supply chain predictability and reliability
Improved collaboration across the enterprise


Learn more about TrakSYS.