Enable and enforce effective compliance management
Food and pharmaceutical products have significant impact on the wellbeing of consumers. The US Food and Drug Administration (FDA) has adopted a risk-based approach to establish and enforce regulations for manufacturing and quality assurance for these products. Mandatory regulations (e.g., current good manufacturing practices or cGMP and 21 CFR Part 11) are defined to ensure final product quality through proper design, analysis, and control of manufacturing operations. For regulated operations, traditional methods of paper-based signoffs and track & trace are error prone and could significantly impact compliance.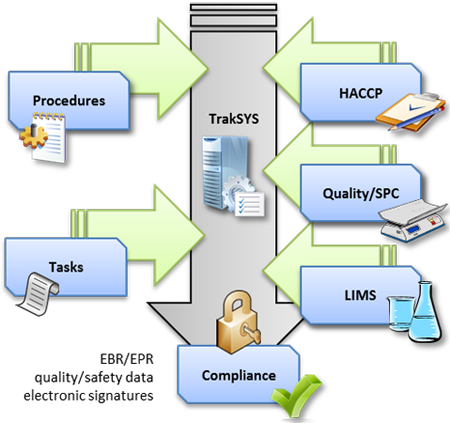 TrakSYS Value in Regulatory Compliance
Leverage existing infrastructure (independent of vendors/suppliers, vintage)
Manage and execute proper workflow for electronic signoff
Enable compliance with track & trace requirements
Establish comprehensive electronic production records
Improve reporting accuracy, consistency, and completeness
Reduce cost of compliance
Learn more about TrakSYS.