Delivering compliant and paperless EBRs
TrakSYS is designed to help manage operational complexities and improve quality and productivity. TrakSYS provides a comprehensive S88-based recipe and batch modeling and configuration engine that allows the definition of data sources, business rules, conditions, tasks, and procedures. Once the operational requirements have been configured, TrakSYS will effectively manage the execution of the complete workflow.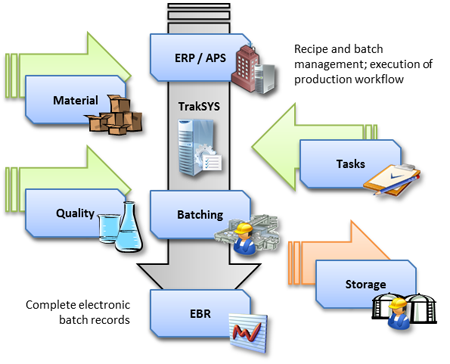 The flexible configuration management and dynamic change control (keeping track of all modifications to configuration, recorded data, notes, and electronic signatures) make it possible to meet the exact data management and electronic batch record (EBR) reporting requirements of even the most complex and demanding batch applications. In regulated industries such as pharmaceutical and food, electronic batch records represent a significant opportunity for improvement. TrakSYS effectively paves the road for delivering compliant, paperless EBRs.
TrakSYS Value in Batch and Recipe Management
Improved regulatory compliance
Improved accuracy, consistency and repeatability
Improved information accessibility and real-time analysis
Improved incident and root cause evaluation
Improved capacity utilization and yield
Improved process capability and reliability
Improved product quality
Learn more about TrakSYS.