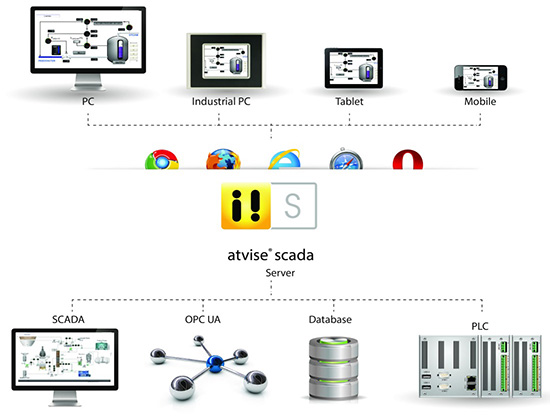 atvise® HMI & SCADA visualisation software is based on pure web technology and uses open interface standards such as HTML5 and vector graphics (SVG) it allows information to be accessed from any PC, Mac, Mobile, or Smartphone device without any additional plug ins.
Unlike traditional HMI, SCADA systems which were not built to run over the internet, atvise® was developed with the internet in mind allowing you to take full advantage of pure, open web technologies.
The atvise® license model allows concurrent web users to access HMI and Information content without the need to license every individual user or computer.
Features:

Pure Web - all you will ever need to successfully run atvise is a web browser
Absolutely no plug-ins required - never have to download ActiveX, Java, Silverlight or any other additional programmes
OPC-UA compliant - easy process connectivity
SVG vector graphics - ensure high quality of display across devices
Object Orientated Environment – easily-link up objects with your PLC
Scalable - 50 to 100,000 Concurrent Data Points (CCD)
Unlimited Tags - collect as many tags as you need
Quick Dynamics, Simple Dynamics - powerful pre-configured dynamic graphics

Benefits:

Cross platform - can be run across any device regardless of operating system
Deploys in seconds - to any client screens equipped with a web browser
Access information - any time, any place, anywhere
Easy connectivity using OPC-UA - less engineering time, less mistakes, while in development & integration
Scalability – only pay for what you need
High Quality Graphics loss-fee scaling for all display devices
Scalable and Flexible
atvise® scada is based on newest technologies and standards: The visualisation in pure web technology as well as a consistent vertical object orientation based on OPC UA changes the world of process management systems.
Visit the avtise website for more detail